EUROPEAN AWARDS FOR BULGARIAN ARCHITECTURE


Sculptor of the Dome - Todor Todorov http://todor.amateras.eu
COMPETITIONS


5 -10 of June 2018, National Gallery of Art
under the patronage of the Ministry of Culture
with the assistance of Sofia Municipality
VIZAR 2018 OFFICIAL LAUNCH
VIZAR 2018

WILL BE OFFICIALLY LAUNCHED on
5th of JUNE / TUESDAY/ at 18:00

at NATIONAL GALLERY OF ART
1, Knyaz Alexander I Sqr.

WE ARE EXPECTING YOU!

/free entry/
THE FOURTH CONSECUTIVE EDITION OF VIZAR - EUROPEAN AWARDS FOR BULGARIAN ARCHITECTURE IS FORTHCOMING.

VIZAR aims to present to the Bulgarian and European public the main achievements - projects and realizations of the modern Bulgarian architecture. All Bulgarian architects working in the country and abroad are invited to participate. More than 1,200 Bulgarian architects working in Bulgaria and around the world have already participated in the previous editions.
The projects, realizations and concepts in both competitions will be evaluated by an authoritative international jury with representatives from Switzerland, the Netherlands, Germany, France and other countries.
The Chairman of the last VIZAR jury was the world-famous Professor Architect Elia Zenghelis, founder of OMA London.
VIZAR 2018 will be held in the period 5-10 June 2018 in the salons of the National Art Gallery - Sofia.

TWO COMPETITIONS WILL BE HELD WITHIN THE VIZAR 2018 FRAMEWORK:
COMPETITION 1 - WHAT`S UP ARCHITECTURE
EXHIBITION–COMPETITION FOR PROJECTS AND REALIZATIONS, REALIZED IN THE PERIOD 2016-2018.
The purpose of the exhibition-competition is to show the latest trends in the modern Bulgarian architecture, realized in Bulgaria and abroad.
Only projects and realizations realized in the period January 2016 - June 2018 are allowed to be presented during the exhibition-competition.

Learn more...

COMPETITION 2 - SECONDARY CITY CENTER - CENTRAL TRAIN STATION ZONE - SOFIA
COMPETITION FOR PLANNING AND DEVELOPMENT CONCEPTS FOR THE SECONDARY CITY CENTER - CENTRAL TRAIN STATION – SOFIA.
The purpose of the competition is to consider the future development of Sofia as a European capital. The competition is organized jointly with Sofia Municipality.
The competition aims to facilitate the launching of new ideas, functions and structure, character and functional development of a new potential Secondary Center - Central Train Station - Sofia. The focus is on the most contact and undeveloped part of the territory between Hristo Botev Boulevard, Knyaginya Maria Luiza Boulevard and the Predgarov Square, whose spatial potential remains unused.
The excellent projects will serve as a future realization.

First premium - BGN 10 000 (ten thousand Bulgarian levs)

Second premium – BGN 5 000 (five thousand Bulgarian levs)

Third premium - BGN 3 000 (three thousand Bulgarian levs)
INTERNATIONAL JURY of VIZAR 2018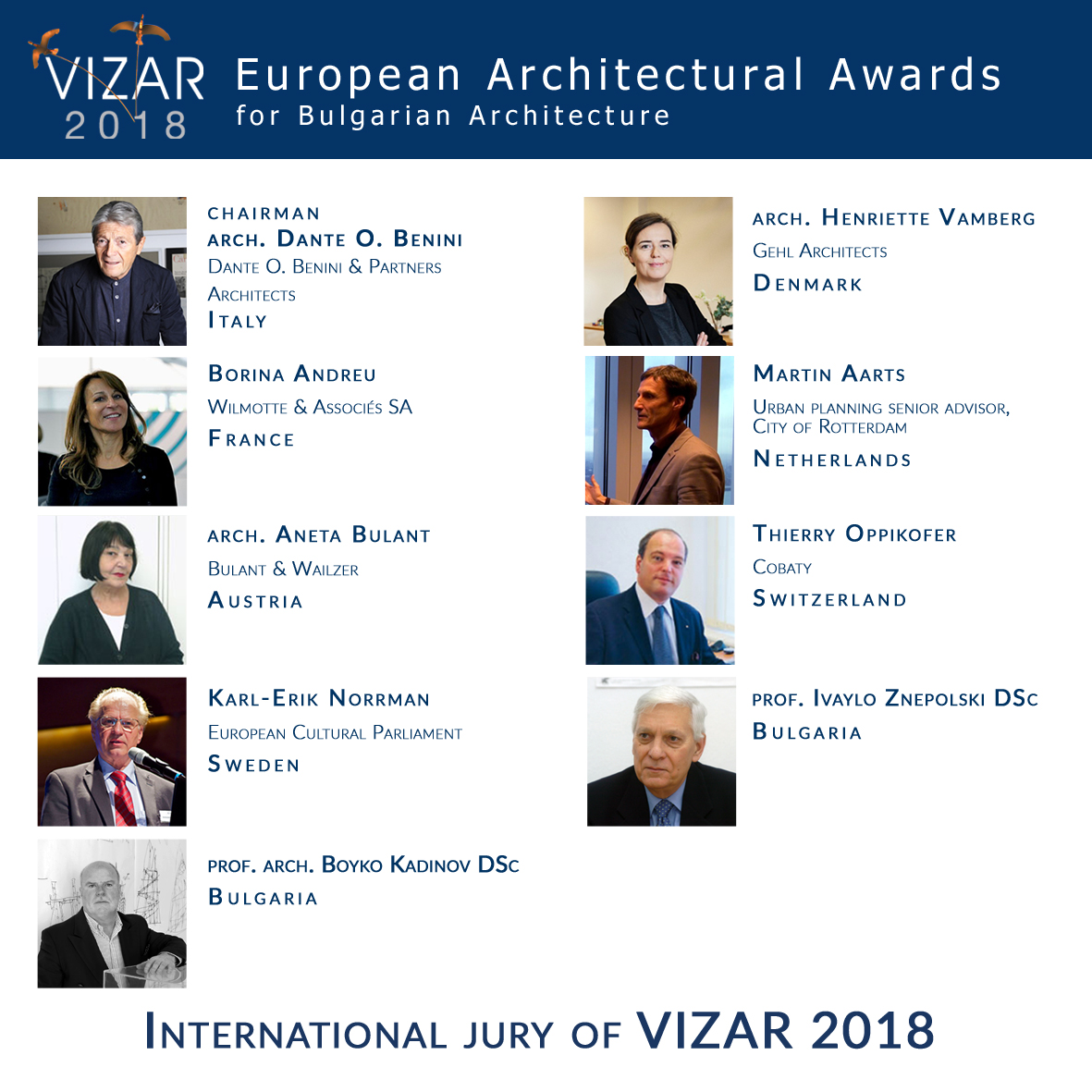 EXTENDED DEADLINE FOR SUBMITTING QUESTIONS
20.04.2018
The deadline for submitting questions for the competitions is extended till 14 May 2018.
DRONE IMAGES FOR THE SITE OF COMPETITION 2 ARE NOW AVAILABLE